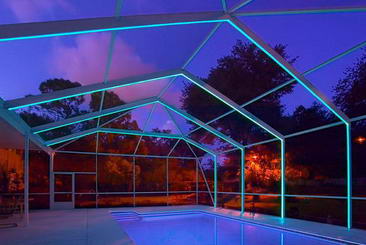 We have a pool and I've put some landscaping lights around the outside of the screened enclosure, but some more 'ambient' light would be nice.
Came across a very interesting product recently called Starlite 7 from Starlite Lighting Systems. It consists of UV resistant translucent colored plastic pieces that fit into the aluminum pool enclosure beams and an optional fiber optic cable lighting system that provides lighting behind!
Looks great and comes in a bunch of different colors. Pretty neat!