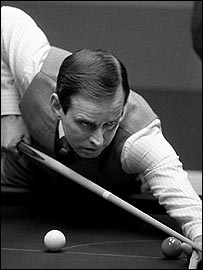 I just finished reading "Out of the blue, into the black", John Spencer's excellent autobiography, published in August 2005. Sadly he died just 11 months later at the age of 71.
As a child in the 1970's, I watched snooker on television, and was particularly mesmerized by John Spencer. He was tall, slim, handsome, always immaculately dressed, a consummate professional, and staggeringly talented. He made shots that simply took my breath away.
I did not know his life story, but was saddened to hear of his death a few years back. I finally got my hands on a copy of his autobiography, and I thoroughly enjoyed reading it. His personality was a lot different than I had expected, with a keen interest in gambling, women, and practical jokes. I was also deeply moved by how much charitable work he did throughout his life. It seems that pretty much whenever he was asked, or saw an opportunity to raise money for a cause or help others, he was right there.
Sadly in 1985 he developed occasional double-vision, caused by a rare condfition call myasthenia gravis which affected his play, but worse, the steroids he was prescribed to help him caused terrible depression and other side effects. He struggled to keep playing snooker, but also ran snooker clubs, and commentated on television, despite major struggles with depression. It seems in his last years his medication was altered and he got into a better place, but he then developed stomach cancer, which he eventually stopped treatment for, so he could live out his final days without the effects of radiation. A brave man, a kind soul, an amazing talent.
Finally, what amazes me about John Spencer is just how many 'firsts' he accomplished. Too many to mention, but a few include:
Won the world championship the first time he entered.
First player ever to achieve a 147 (perfect) break in a tournament.
First winner when the world championship was moved to the famous Crucible Theater (where it is still held).
First winner of the prestigious Benson & Hedges Masters in 1975.
First pro snooker player to use a two piece cue
Amazingly he accomplished these things and so much more despite not having played from the age of 18-28. He traveled the world extensively giving exhibitions, competing, and promoting the game.
Thank you John Spencer, for providing so much excitement and enjoyment to this 'kid' growing up in England. And RIP.
References